A Story, an Experiment, a Vision
Posted by Nicki Peasley 2 Comments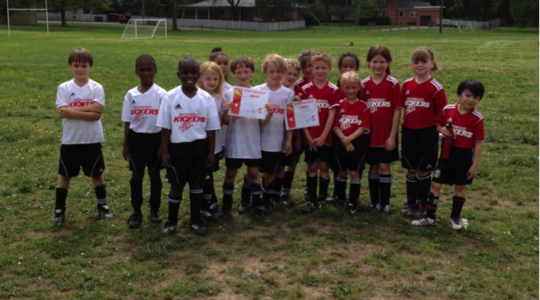 I am a storyteller.  And stories give life to the global vision I strive to impart to my own children and to the children in my Bounce circles. 
This one below is my favorite, an illustration of Ubuntu, an African philosophy that opens our American eyes to a new way seeing, connecting, and doing.  Thank you Wendy, from "Raising Natural Kids" for sharing and inspiring…
An American travelled to an African village and gathered the children in a circle.  He pointed in the distance to a basket of fruit underneath a tree.  He said, "The first one to reach the fruit can have it all."
At this point, I stop and ask the circle of children in which I am sitting, What  would you do?  And I add the caveat, What if it were candy instead of fruit?
  Typical answers: 
"I would put on my fastest running shoes."
"I would see if I could get a head start."
"I'm really fast so I would probably win."
Well, I continue, Do you know what these African children did?  Without even talking about it, they got up, joined hands, and ran to the fruit—together.  And then they sat down and enjoyed it—together.
I pause, allowing the circle to process this innate sense of cooperation in these African children. 
Some are slack jawed, "They wouldn't have done that if it were candy."
Others hold their hands on their hearts, "Oh that's so sweet."
Others offer, "Well, I would have seen if I could win but then I would have shared."
I continue, When the American asked the children why they didn't race, when they had the chance to win all the fruit, one boy stepped forward and said, 'Ubuntu.  How can one of us be happy if all the other ones are sad?"
Ubuntu:  I am because we are.  We are all unique and we are all one.
This is a world I want to live in….
And I am reminded with painful frequency that in the competitive culture we've created for our children, this is, too often, a foreign concept.
Along with being a storyteller and an advocate for compassionate communities, I am also an all American soccer mom.  I spend chunks of my springtime afternoons and weekends on the sidelines watching my three kids kick around a ball. 
I love a good game.  My husband would even tell you that I've got a competitive streak (it was one game of touch football).  Healthy sports competition is just that, healthy.  It challenges us to step into our potential and celebrate what our brains and bodies can do. 
And I am not a proponent of the "everybody gets a trophy" mindset.  I believe that kids, just like adults, should be rewarded for hard work, not just showing up.  When I see that one of my kids isn't doing their best on the field, I talk to them about it (later and privately and with curiosity, not accusation).
And don't even get me started on this crazy cultural habit of snacks after every game.   What is that all about?  I digress.
Above all, I believe that a team has the potential to be the most powerful kind of learning community for our children.  In a perfect world, the team is full of diverse strengths and limitations and an appreciation for both.   It is a place where players are supported and challenged and held accountable to show up as their best selves on the field and on the sidelines.  In a perfect world, people learn to be good players of the game and good players of life by being on a team.
And what I've witnessed this year as a soccer mom, has left me wanting to hop the first plane to Africa, desperately seeking Ubuntu.   
·      At my son's first soccer game of the season, a little girl on his team screamed, "Idiot Boy," when my son kicked a ball out of bounds.  And has since continued to berate her other teammates when she is displeased by their performance on the field.
·      A father of a boy on this same team relentlessly chided his son from the sidelines, "How could you have missed that?  You gotta run faster than that.  How many times have we practiced that shot?"
·      At my daughter's game last week, a coach was so abusive to the referee, that he was carded—in a recreational league!
·      And the final straw for me happened last week when my daughter missed a shot on goal (her first shot ever on goal) and was harshly reprimanded by THREE of her teammates:  "You should have had that;" "Man, you are so scared of the ball;" and "Good Job, Viv. Not."
It's probably a really good thing I didn't hear those last comments until my daughter tearfully relayed them to me after the game was over and the snacks had been consumed (ugh) and and everyone had left the field.   (The little girl who made the idiot boy comment to my son was not so lucky).
I am not alone in my disgust about the current state of "healthy" NOT competition. I've been expressing my concerns to anyone who will listen and it seems apparent that we are at a tipping point. 
The Universe provided me a divinely timed opportunity this weekend.  I knew that a camping trip for Coach John, the skilled and compassionate leader of my son's team, might leave the team in a lurch… so I stepped up to coach.  (I used to coach when my boy was little and cute and it was more about the team name and the cheer than the game.  So I wasn't surprised by the look of dread that shadowed my son's face after sharing my big news).
Don't worry, Honey.  No sun salutations for warm-up, I promise. 
Yep, I was ready to step up to the big leagues, armed with my vision of Ubuntu… and an experiment, of sorts.
Last week, an article on Edutopia came on my radar.  It was about a team that gives a sportsmanship award to a member of the opposing team after every game.  That's brilliant.  And so I made it my own.  
It was a beautiful Sunday afternoon.  Coach John actually made it home early from his trip to lead his team (maybe he was afraid of the sun salutations too), allowing me to fully focus on my experiment.  I introduced myself to the opposing coach and asked if I could "borrow" him and his team for a circle before the game.  He was a bit puzzled, but he obliged, as did the good spirited referee. 
So there we sat, a pattern of red and white jerseys, the Fire Balls and the Bull Dogs, in a circle in center field.  And I asked,  What is sportsmanship?  A few hands went up to share their examples and experiences.  One boy, in particular, from the opposing team had lots to say about kindness on the field-- celebrating the good work of all, showing respect toward the referee and the coach, showing compassion for players who get hurt. Really good stuff that was made real and relevant as we culminated by sharing our names-- connecting beyond our jersey colors.
It was a great game.  The Fireballs and the Bull Dogs were equally matched and the pace was exciting. Throughout the action, I checked in with the  kids as they came off the field for water breaks.  What are you noticing about sportsmanship out there? Any favorites for the award?  They were excited to share about the good and not so good players of life.  It seemed our circle experience had varying levels of impact on the players.  Just as I hypothesized.
In the end, it was a tie game.  (How great is that?) 6 to 6.  And not to get all woo woo, but it must be said that in numerology, 6 is the most loving of all the numbers, the glue that holds communities (read teams) together.    Ahhh, there are no coincidences.
And so, the teams huddled together to take a vote on whom they would award the sportsmanship certificate. Again, there was discussion of who shouldn't get it, as well  (which we adults chose to ignore, focusing on the positive instead).  And I'm happy to announce that Bull Dog Sage Parker and Fireball Raine Haddad were the proud winners.
The conclusion of this experiment?  It's going to take more than one circle to create the kind of impact that I know is possible and essential for each and every sports team. My kid's and yours.
And I wonder… what if every game began with a circle mid-field and ended with recognizing a player on the opposing team in a positive way?  Now that's a story that wants to be told.
Let's tell it together.  
⇐ Previous Post: A Story, an Experiment... Next Post: A Little Disruption ⇒

Nicki Peasley I am the CEO of my home, managing a team consisting of a 40 year old, an 11 year old, an 8 year old, and a 6 year old. In my spare time, I am the YOUth development director for Bounce, writing curriculums and working (playing and learning) with elementary and middle school youth.