The significance of knowing one's spark
Posted by Jay Markiewicz Share Your Voice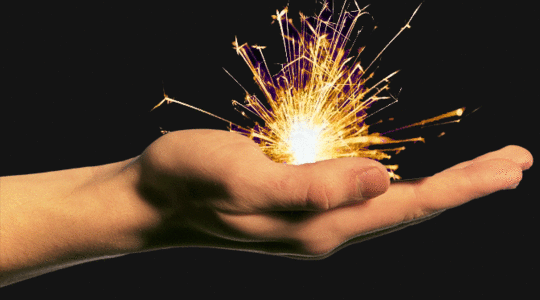 I listened to a room full of High School students today, in a debrief, after their shared experience in a 6th grade classroom.  The topic of that shared experience was "Spark" - defined by Peter Benson as "something that gives your life meaning and purpose.  It's an interest, a passion, or a gift."  Here is what I heard.
The question I asked them in the debrief was "Why does Spark matter, so what?"  I wish I had a tape recorder, their brilliance was stunningly clear....here is my recollection paraphrased.
1 - My spark is a directional compass.  "My spark is physics, and I don't think I realized that.  Now that I know that, it's very clear that I am going to go to college to study physics.  I love physics!   Physics will be my path."
2 - My spark transcends time.  "I have a friend that did really well on her SATs (looking right at his friend and saying "you know I love you girl").  She did so well that it opens up many doors for her.  I'm not sure I will have that.  My spark is people, I love meeting people and learning about them.  What I'm realizing is that the SAT score doesn't mean anything after it has met it's purpose of college admissions.  The SAT goes away.  My Spark will stay with me." (note here is that this student was sitting next to his friend that got the high SAT score, and he completely honored her in a way that was so very touching.  Even though his point might have been received defensively.)
3 - My spark gives me joy and meaning.  (following is quoted from the student with the high SAT score)   "At the end of the day, sometimes I realize I've spent the entire day on a hamster wheel.  It just feels like I did all this 'stuff' and it didn't really matter.  When I do things related to my spark, I have more joy and meaning to my life.  I think everyday I need to build into my life things around my spark."
4 - My spark brings positive energy and appreciation.  "There is so much negativity in the pressures of society, to do this or do that.  I find that when I am connecting with my spark that the negativity goes away.  What is left is a lot more positive energy and appreciation."
5 - My spark builds confidence.  "I am in 5 honors societies, signed up for every school activity that will show up on college entrants applications, and for two years I really struggled - with the negativity associated with it, it was just draining.  I found my spark and it gave me the confidence - and it did bring that joy and positive energy that others have talked about."
6 - My spark gives me identity.  "I am in the middle of college entrants applications.  And they ask me what clubs I am in, what activities I do, what sports, grades.  My spark is humor, and it's a big part of me.  And I'm finding I can't put "humor club" on these college applications because "humor club" doesn't exist.  So how do I share who I am?"
What brilliance do our youth bring?  If you want a directional compass for your life, importance that transcends time, gives you joy and meaning, brings positive energy and appreciation, builds confidence, and gives you identity....then find and live your spark.
And watch this TED talk by Peter himself.
jay
⇐ Previous Post: The significance of kn... Next Post: Personal Retrospective... ⇒
Jay Markiewicz Hi There! My passions in life include my children, endurance running and triathlons, and my body of work. Oh, and I am a huge Steeler fanatic! I invite you to read about my perspective in the Bounce blog and Voices section of this site. wecanbounce.com/blog