Connected to Our Power
Posted by Ann Deaton Share Your Voice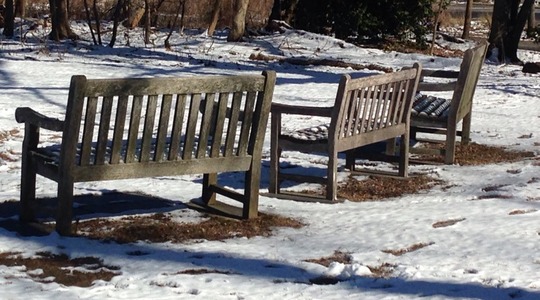 "We cannot live only for ourselves. A thousand fibers connect us with our fellow men; and among those fibers, as sympathetic threads, our actions run as causes, and they come back to us as effects." 
― Herman Melville
Each of us is powerful AND each of us is limited. Our power grows exponentially when we recognize, and act on, the importance of connection. What could this look like?
Asking for help: Being willing to acknowledge what you don't know, situations where you are a beginner, and to open yourself to learning from another. Asking for help arises from the recognition that another's gifts and knowledge are powerful indeed and that we are stronger together.
Generosity and Service: Seeing opportunities to support others, to provide them with something they need--whether it's a listening ear, visibility, a specific resource, or even feedback. Being generous with your time is often the greatest gift of all.
Appreciation: Expressing your gratitude for what another person, organization, or body of work offers. Appreciation has multiple meanings---(a) having a full understanding; (b) increasing in value; and (c) recognizing and enjoying the positive in a person or situation. Expressing appreciation not only acknowledges another; it also adds to our own joy and sense of well-being. True connection also includes appreciating in the way the other would most like to be appreciated. The Five Languages of Appreciation in the Workplace offers insights into discovering another's preferred language.
Linking: Creating or suggesting a connection. This might be as simple as an email introduction of two colleagues who you know will benefit from knowing one another. It might also be connecting two bodies of work that supplement and augment the other. 
Mindfulness: Being present to and noticing the moment, connecting more deeply to ourselves and setting aside distractions. Being aware of ourselves has a grounding effect that enables us to be more thoughtful in our responses. 
What other ways do you think of when it comes to connecting? What will you do to connect in 2018? What positive impact will it have when you do?
⇐ Previous Post: Connected to Our Power Next Post: Are you trauma-informed? ⇒

Ann Deaton I am a leadership coach, and Managing Partner in Bounce. I love to coach and facilitate with individuals and systems experiencing significant change and growth. The clients I work with, regardless of their age or position, are talented and creative individuals willing to look with fresh eyes at their challenges and opportunities, and to take action based on their discoveries. As a result, they find that they are capable of accomplishing far greater things than they ever imagined. What do you want to accomplish today? Who do you want to be?