VUCA Tools for a VUCA world
Posted by Ann Deaton Share Your Voice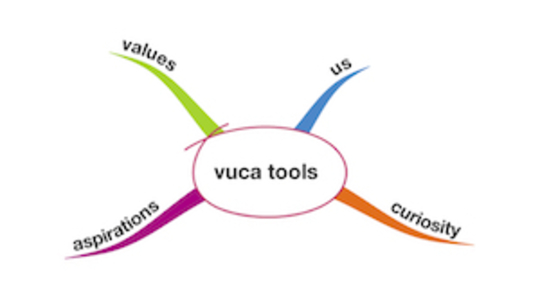 VUCA? What's that? VUCA is an acronym developed by the US Army War College to describe a challenging environment. Specifically, one that is Volatile, Uncertain, Complex, and Ambiguous. That is, our world today. VUCA is a call to be vigilant, to be ready. Yet the notion of VUCA can also create a sense of exhaustion, a state of constant readiness and even anxiety. Once you know about VUCA, what do you do about VUCA? 
The answer, from our perspective, is a set of VUCA Tools that offer approaches for creatively responding to our ever changing world. VUCA Tools uses the same four letter acronym, and in this version the letters stand for something entirely different: Values. Us. Curiosity. Aspirations. Tools that enable thriving, and not just surviving, in a VUCA world. To learn more, check out some of our resources at www.VUCATools.net or enjoy our Pinterest page at https://www.pinterest.com/anndeaton/vuca-tools-tm/. Let us know what you are discovering, and how these Tools support your excellence and enjoyment of this sometimes challenging world we live in.
⇐ Previous Post: VUCA Tools for a VUCA ... Next Post: Listening Matters: You... ⇒

Ann Deaton I am a leadership coach, and Managing Partner in Bounce. I love to coach and facilitate with individuals and systems experiencing significant change and growth. The clients I work with, regardless of their age or position, are talented and creative individuals willing to look with fresh eyes at their challenges and opportunities, and to take action based on their discoveries. As a result, they find that they are capable of accomplishing far greater things than they ever imagined. What do you want to accomplish today? Who do you want to be?