Camp ONE Heart, a View from the Bridge
Posted by Nicki Peasley 1 Comments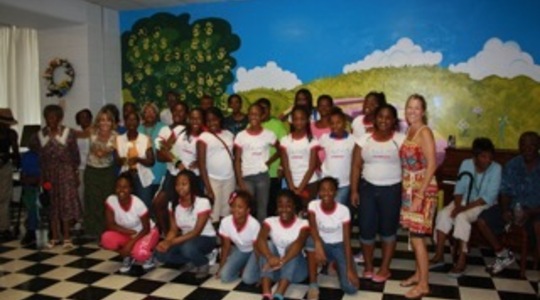 What is your spark?  And how can you use it to impact the world? 
A big focus of our work with youth is community service.  Empowering young people to discover and declare their sparks (what brings them joy and purpose) and connect that passion or gift to making a difference in the world.
This past week, I practiced what I preach and connected my sparks with a Bounce community service effort in Gilpin Court, a public housing project.  I love helping young people fall in love with themselves and with life. And I find great bliss in working with senior citizens.  These sparks were united through the design and delivery of Camp One Heart, an intergenerational effort that brought the "Divas" of Camp Diva together with the "Golden Girls" of Fay Towers Senior High Rise.  
The week was as much about the process of building bridges across differences as it was about the product of a room make-over at Fay Towers.  The girls (ages 10-15) began their day in a girl circle, in which we explored the leadership topics of mindfulness, emotional intelligence, values, active listening and powerful questions, cooperation, emotions, trust, diverse points of views, roadblocks and sparks.  We practiced yoga, guided meditation, and appreciation to ground us in our purpose for the week—to step in and show up as our best selves, willing to share our gifts for the sake of building a better world.  
On Day 1, as we prepared to walk our collective good energy over to Fay Towers, the girls voiced their concerns.  The one that stood out the most,  "What if they don't like us?"  After some discussion, these courageous young women committed to carry the principles of respect, curiosity, and acceptance into the experience, open to whatever learning might emerge.
At Fay Towers, the divas and the golden girls sat in a large circle.  In the beginning, the divas all sat together on one side of the circle and the golden girls on the other.  Over time (and with some prompting), the circle desegregated and the girls and the women united.
We set the tone at that first meeting by sharing the African philosophy of Ubuntu, which evolved as the theme of the week.  I am because we are.  We are, each of us, brilliantly unique… and we are ONE. 
We got connected (literally and figuratively) by bracelets created by ONE ball of yarn.  As the divas and the golden girls wrapped the yarn around their wrists, they declared their unique brilliance.  In the end, we asked, Could your bracelets, your symbols of self, exist without the ONE ball of yarn from which they came?  And so our bracelets served as reminders of Ubuntu throughout the week. 
Each day at Fay, the girls had the opportunity to practice (and in some cases teach) what they learned that morning.  We played values poker as a large group; in intergenerational pairs, we practiced listening actively from our hearts and asking powerful questions that allowed for deep sharing of lessons learned and dreams yet to manifest; we learned about each others' sparks and celebrated them through play dough symbols; and we deeply and openly appreciated each other and the Camp One Heart experience. 
"I thank God that we were brought together to learn from each other.  I have new faith in our young people today!" said Golden Girl Deborah.
We also participated in a drum circle together, exploring emotion and connection through music.  A beautiful illustration of Ubuntu—everyone sharing their unique sounds and rhythms to create ONE piece of soul shaking music.
After connecting through this variety of experiences at Fay, we then rolled up our sleeves and got to work beautifying the community room.  There were four stations and each group  (the divas and the golden girls wearing colorful t-shirts designating their group affiliation), rotated to a different station each day.
At the stepping stone station, (Dawn and I a mess mixing up concrete), the divas and the golden girls made their imprints in heart shaped stones using gems and stenciled words and hand-prints.  In the end, we created a stepping stone garden at the entrance of the building.  
The final station was the co-creation of the huge wall mural, led by my amazing friend and art teacher Danielle Houdek.   The girls and the divas painted their hearts out to create the perfect illustration of the week—a bridge of connection and love.   In the end, they made their imprints on the mural with yellow handprints, depicting the sun coming through the trees, shedding light on the bridge, on which they all signed their names.  
We also created a mandala together—an ancient practice of mindfulness in which each participant added her own design and sand to create ONE circle of artistic expression.
At the closing ceremony, our partners came together to celebrate the success of Camp One Heart.  We paid gratitude to Richmond Redevelopment and Housing Authority for their funding of the beautification materials; Friends Association for Children for connecting Bounce and Camp Diva and hosting us in their space; Camp Diva for the opportunity be a part of the sisterhood; and Fay Towers for inviting us into their home and trusting the (sometimes messy) beautification process.
"I will always remember the love we have here.  I'll remember the stories and the laughter.  The golden girls never looked at our outer appearance but our inner heart." said Diva Quadiria. 
At Bounce, we believe that we are all leaders when we make the choice to step in and show up as our best selves and share our unique gifts to build a better world.   And all of these these ladies, the young and the not so young, were leaders this week.  The room, indeed, a reflection of this leadership, as well as the participants' inner beauty and their connection to each other.
⇐ Previous Post: Camp ONE Heart, a View... Next Post: Leadership with an imp... ⇒

Nicki Peasley I am the CEO of my home, managing a team consisting of a 40 year old, an 11 year old, an 8 year old, and a 6 year old. In my spare time, I am the YOUth development director for Bounce, writing curriculums and working (playing and learning) with elementary and middle school youth.