Learning to Take Myself Lightly
Posted by Ann Deaton Share Your Voice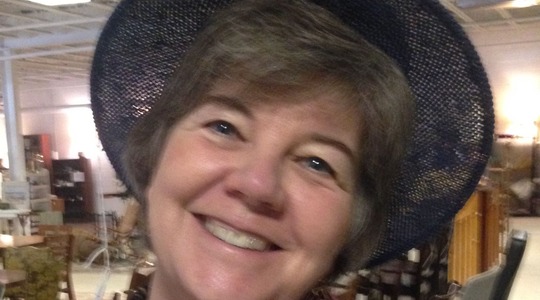 There is a Buddhist saying "When the student is ready, the teacher will appear." Recently, I've found I am ready to take myself less seriously, and the possibilities for teachers abound.
One of the generous teachers who has shown up is imperfection. Like most of us, I am imperfect on a daily basis. My many flaws can be an invitation to chastise myself, yet I am choosing to see them as mentors. My imperfections are wonderful teachers as I learn to set aside self judgment, and give myself a break. It doesn't mean I don't strive to get better, but only when it actually matters.
Another of my teachers of lightness has been getting teased. My family has always teased me about my corny sense of humor. And now I notice that when I'm facilitating, coaching, or teaching that there is the occasional amused pointing out of something I've done that has caused another person, or an entire class, to chuckle. (In one recent situation,  a group of IT professionals were amused by my imitation of a bear leaping---dramatically and ferociously, I felt---towards the class to demonstrate how a fear response gets triggered. Suffice it to say, they were more amused than terrified.)
And though fate has brought me these and many other natural teachers, I am also engaging in some new practices that bring more joy and lightness into my days:
1. Instead of listening to nonfiction (aka work-related) books when I'm driving, I choose lighthearted, entertaining fiction that at times makes me laugh aloud. Wherever I am traveling to, I arrive centered, relaxed, and open to the experience.
2. I take the occasional silly selfie (like the one included with this blog) and share it with friends, family, or even social media. It's hard to take yourself too seriously when there is photo evidence to the contrary.
3. I am practicing noticing myself---recognizing when I am leaning too heavily towards the serious, or have a sense of heaviness or worry. When that happens, I can choose to understand why and deal with it, or take a walk, or simply shift my focus. With noticing comes the opportunity to choose.
4. I am experimenting with the habit of letting go. Sometimes my overly developed sense of seriousness can come from holding on to something that is no longer needed, or no longer fits. I am trying to let go of the hundreds of emails that "I might need sometime", releasing the notion that there is only one right way to complete a task, and letting go of the need to be anyone other than who I am. Not only am I letting go, I am doing it consciously and with joy. (My friend Debbie Bowie, professional organizer, author, and coach, has been one of my teachers for clearing the clutter in my mind!)
Having Joy throughout my days is my conscious choice these days. In my more serious moments, I reflect on how this contributes to my resilience, my ability to be present to the moment, and my health. In my lighter moments, I simply laugh.
⇐ Previous Post: Learning to Take Mysel... Next Post: Style or Substance? ⇒

Ann Deaton I am a leadership coach, and Managing Partner in Bounce. I love to coach and facilitate with individuals and systems experiencing significant change and growth. The clients I work with, regardless of their age or position, are talented and creative individuals willing to look with fresh eyes at their challenges and opportunities, and to take action based on their discoveries. As a result, they find that they are capable of accomplishing far greater things than they ever imagined. What do you want to accomplish today? Who do you want to be?