Mandala Magic, Earth Love, and CONNECTION!
Posted by Nicki Peasley Share Your Voice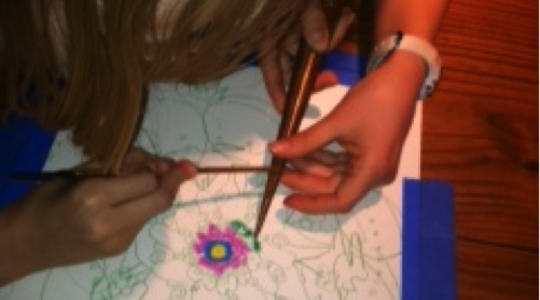 The last 2 sessions of our Leading Ladies evening program have left a lasting effect on me...  
In March, we  revisited the mandalas we created in February.  Check out this link to create your mandala .  We used special copper instruments to fill in our designs with colorful sand.  Here you can see the monks in action.  We learned about the healing power of this tradition and dedicated our effort to the animals in Thailand and the people in Indiana affected by the tornado.
Through this practice, we introduced the concept of mindfulness (focus + non-judgment).  And through a core breathing practice (adapted from the Mind Up curriculum), we continued to explore the power of the mind, the discipline of controlling it, and the self-compassion necessary to let go and begin again (whether in a breathing exercise or in life). We also explored how mindfulness shows up in listening, emotions, and conflict management (LIFT), 
We ended that evening in March by gathering under the full moon and releasing the sand used for the mandala into the wind (in honor of the animals and the tornado victims). It was truly a beautiful expression of our need for each other….our connection and our oneness.
Last night, we continued our exploration of connection.  In honor of earth month, we began our evening by choosing and decorating stones, infusing them with our love and good wishes for the planet, and finally taking them outside to build cairns (stone piles that offer places for reflection and gratitude).  
We connected to each other by creating a web that illustrated an African philosophy called "Ubuntu" (I am because we are).  This prompted a great discussion about "mean girl" behavior; why it happens;  and how loving ourselves is the first step to loving others. 
Finally, we took our mindfulness practice a step further into a meditation that allowed us to connect deeply to ourselves.  From this state of self-compassion, the girls were able to artistically express who they are and how they shine their lights in the world. 
What an honor it has been to learn with this beautiful group of young girls.  
In gratitude....
⇐ Previous Post: Mandala Magic, Earth L... Next Post: The Creativity Convers... ⇒

Nicki Peasley I am the CEO of my home, managing a team consisting of a 40 year old, an 11 year old, an 8 year old, and a 6 year old. In my spare time, I am the YOUth development director for Bounce, writing curriculums and working (playing and learning) with elementary and middle school youth.